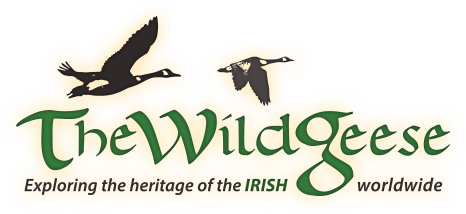 "The word 'Irish' is worth 10 bonus points, right away… I think it's vital to get that word 'Irish' in the domain name. I think it must be worth many thousands of extra eyeballs … and .IRISH makes it easy to get that word 'Irish' in there"
Click on the player above to hear today's podcast, or download it here.
Gerry Regan is co-founder of TheWildGeese.Irish, an online community dedicated to sharing stories of the Irish emigrant experience. If you know your Irish history, the term 'Wild Geese' will resonate instantly. Since the 17th Century it has been a metaphor for the Irish diaspora, in particular those who served as soldiers of fortune in foreign wars, and it became a well-known motif in art and literature.
Was it for this the wild geese spread
The grey wing upon every tide;

– WB Yeats, September 1913
But many people are unaware of the literary and historical reference, despite having an interest in Irish heritage.
"We came to realise that a lot of people didn't realise what was 'Irish' about 'The Wild Geese'"
"Some people were thinking that we were some kind of bird-lovers' site", explains Gerry, referring to their efforts to promote the site which was founded in 1997.
They considered various alternatives within the old Top-Level Domain structure, but none were satisfactory. Then came .IRISH.
"When I read last fall that .IRISH domain names were coming I became very excited", he says. Now at last they had the opportunity to replace .COM with a more meaningful extension, to get the message across that the site was about the Irish experience, and still keep the poetic name.
Trailblazers.Irish is brought to you by Blacknight, the only Irish-owned , ICANN-accredited, domain name registrar. Get your .IRISH name at Blacknight.Irish!